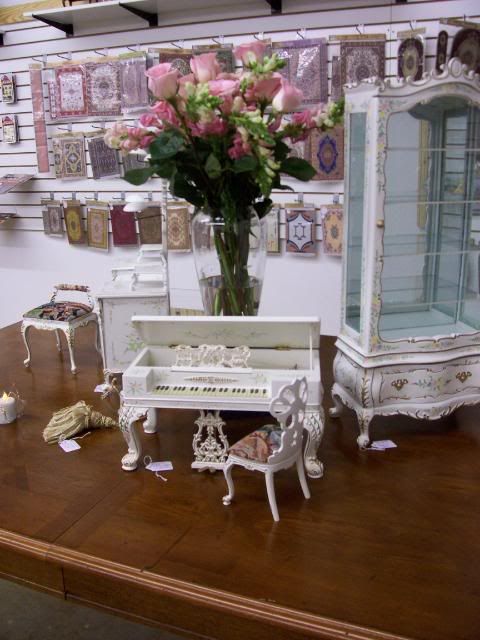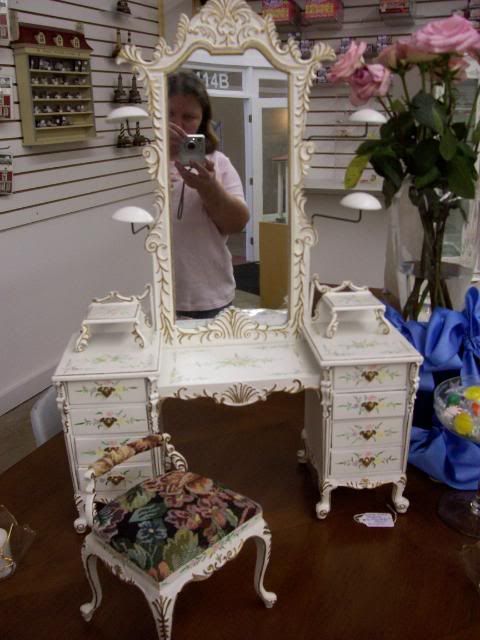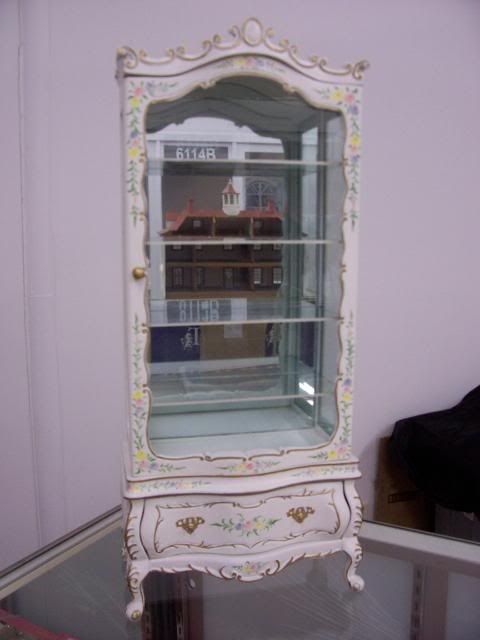 We have some beautiful items displayed in our shop at King William Miniatures & Collectibles! Where else could you visit and see One of a Kind Bespaq prototype pieces- of museum quality?
Prototype pieces are exactly that- when the owner of Bespaq, Pit Ginsburg, decided to create a piece, he usually had a prototype so he could 'tweak' the design, cost, etc. before manufacturing a large quantity of the item. For whatever reason, many of these pieces were not reproduced at the time the prototype was created- hence we have these lovely pieces for sale & on display in our shop. *The Piano & chair are already sold.* The curio cabinet, ($300.00 ) & the hat vanity- ($550.00) are still available. These items are for pickup only, due to the fragile nature of them.
The hat vanity comes in three pieces- the stool, mirror, and vanity. The mirror slips into a slot at the back, and the hat racks slide into a predrilled hole on the side of the mirror. Total height of item assembled is 26 inches high, 17 1/2 inches wide. This would probably work for dolls 22 inches and larger, especially the BJD's.
We have uploaded many new items on our website,
http://www.kingwilliamminiatures.us/
so please browse! I have received in alot of new carpets that I am still doing inventory on, and the carpets have new colors, new period designs, and are beautiful! (These are also available on our Ebay store Pumpkin Hill Studios at
http://tinyurl.com/yjvz65
)
Plus, Bespaq's newest affordable line of furniture sets- PARK LANE is here! All sets are 1:12 scale.
Shown are pics of some of the sets we have- Andrews study set, Andrews dining room, Clemson parlor suite, Sweet Cottage nursery set, & the Francine bedroom suite. Can't beat the price plus the packaging is beautiful also! This is just a sample of what is available in our shop, website, and Ebay store!
We have also received in some beautiful premiere sets- these are quite lovely.
Shown here is the Regency game room set, in new walnut finish- 1/12 scale.
We also are expecting in this week (4/13-4/17) FDQ magazine, and currently have in stock- Miniature Collector May 2009 and April 2009, also Jan/Feb & March/April 2009 Dollhouse Miniature Magazine, April 2009 American Miniaturist, and March 2009 issue of American Miniaturist- these are also available for order on our website & Ebay store links.
Please visit our store and shop! You may also bring your dolls to 'try out' the furniture and accessories at the dolly table, for size comparison and fit.
~Lisa