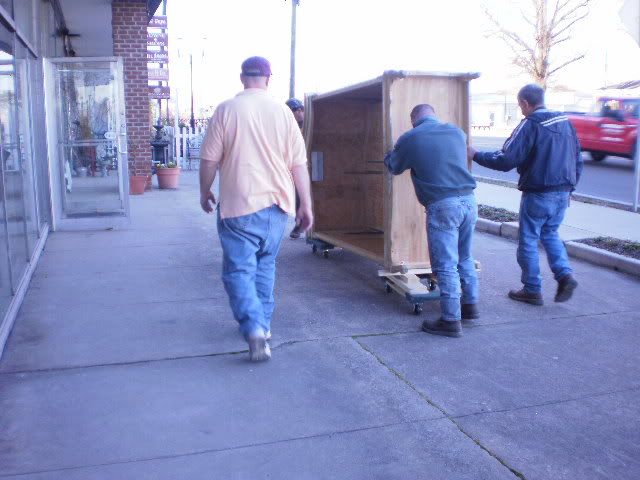 The move with the heavy work of moving the store displays, is all well underway. Above are some photos of the move of the largest item inthe shop, the 12 ft French armoire...shown are my husband Chris, my dad, and two friends, Ed & Casey, who helped us move the displays and this large armoire which we use to display large items such as dolls, and the large scale furniture. (It was originally a display for Nordstrom's that I found in a liquidation warehouse sale). When stood next to the partition door in the partition wall we installed, it looked fabulous. My dad & husband Chris had found the antique louvered door at a habitat sale, where used fixtures were sold, and it fitted perfectly with the armoire''s heighth. My intention is create an atmostphere that will be both inviting and pleasant both for the dollhouse miniaturist & the doll collector.
I have alot more pics of the new store location so far, which looks alot fuller now, but am working from a laptop until our counters are wired together with the glass display cases. Until then, enjoy some of the finished shop window display pictures, we are getting ready for Easter and hope to be open officially by March 27th? is the goal....
The shop window displays a wide variety, of scale items- fromthe largest Bespaq piano & matching chair we carry for 1:3 scale dolls (18-24 inches or for bjd's 55-60cm high) to the teacup & jar scenes (I do commissions)to our miniature 1:12 scale roombox boutique with some items we carry to furnish miniature shops, & also teasets for children, and adult collectors & dolls. Strewn amongst the labyrinth is Easter eggs and bunnies, and the fairies on the drop space below. One of my pleasures has always been to mix in my collection with a variety of dolls and items, since I myself love to decorate my home with dolls and miniatures, and child sized items.
The big porcelain doll with the peach hat on- our 'Big Amanda doll' (named after daughter Amanda) is wearing an antique child's toddler dress fromthe early 1900's, and also carries a basket of bird's eggs...I love antique clothing, and this is another indulgence I use forour window displays.
Enjoy the pictures- & more will come soon! Check our Facebook fan page for more updates on when we will be opening, and the Easter event on March 27th in Lakeside!